BRITOOL
Torque Drivers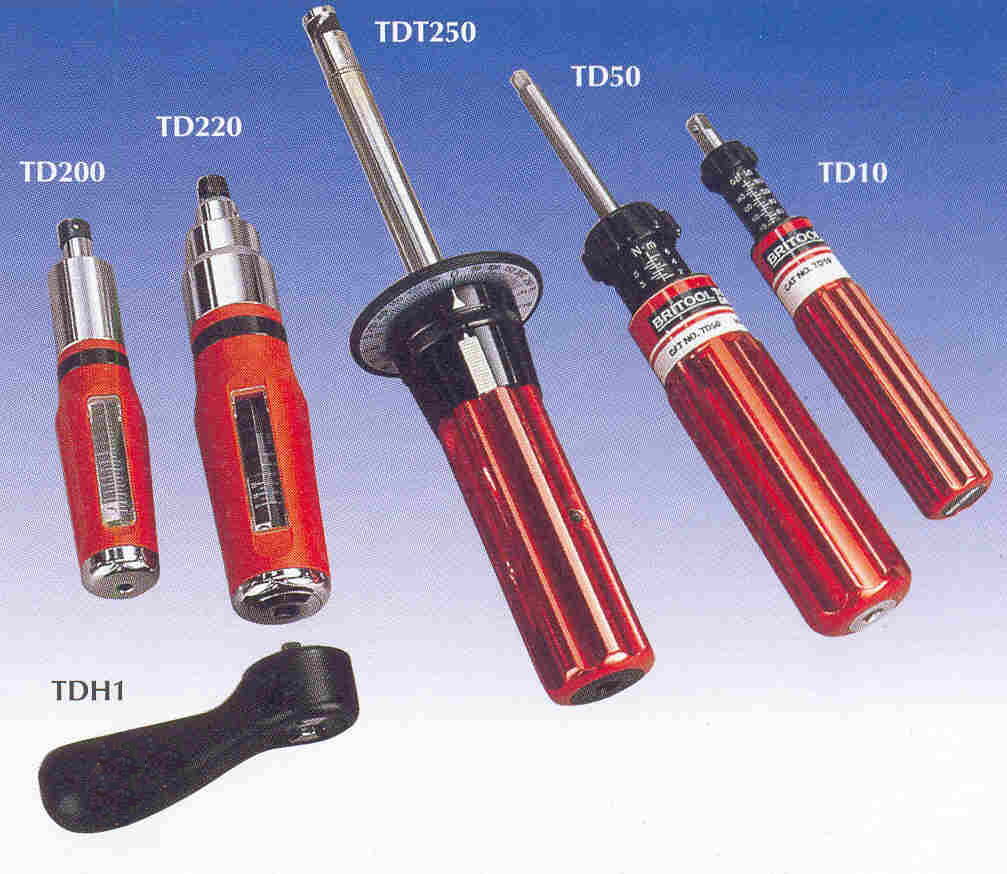 Britool torque drivers have been specially developed for use assembling, maintaining and repairing small mechanical and electrical assemblies where low torques are required.
Bi-directional operation

Accurate to ±6% of reading

Manufacturing to international torque drivers standard ISO 6789 : 1992
Torque Limiting Drivers
Release present torque-handle rotates freely when the required torque value is achieved. Prevents unintentional overtorqueing

Mechanism automatically resets, facilitating rapid repetitive operations

Ergonomic handle design for a film, positive grip, allows accurate torqueing - comfortable with prolonged use.

TD200, TD210, TD220 have parallax-free precision vernier gives exact torque readings

Handles except TD10 incorporate 1/4" female square which facilitates use of 'T' bar or ratchet handle TDH1 for more turning power

Adjustment ring on TD10 and TD50 disengages when tool is in use, to prevent accidental resetting
1/4" square drive, male
Ref.
Torque Range
Square Drive
Length mm
Wt. Kg
in
mm
TD10
20-120 N.m
20-170 ozf.in
1/4
6
160
0.16
TD50
1-6 N.m
10-50 lbf.in
1/4
6
222
0.34
1/4" hex drive, female
Ref.
Torque Range
Hex. Drive
Length
Wt.
in
mm
mm
Kg
TD200
15-75 cN.m
1/4
6
135
0.25
TD210
0.5-2.5 N.m
1/4
6
150
0.33
TD220
1-6 N.m
1/4
6
160
0.40
Ratchet handle
Ratchet mechanism for fast pre-tightening - comfortable grip for repetitive operations. Facilitates tightening to higher torque settings.
For use with TD50, 210, 220
Ref.
Square Drive
Length
Wt.
in
mm
mm
Kg
TDH1
1/4
6
84
0.08