Mitutoyo >> Miscellaneous >>Pitch gauges

Digimatic Universal Protractor Series 187.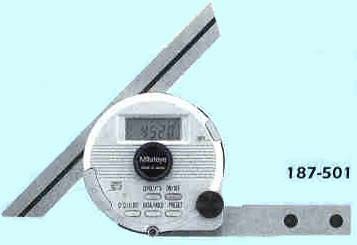 Features:
Data output function make it easy to see the statistical data.

Setting preset value.

Can be attached to height gauge.

Removable blade.

Product complying with the EMC Directive.
Order No.
187-501
187-502
187-551
187-552
Blade Length
150 mm
300 mm
150 mm
300 mm
Measuring Range
- 360° to + 360°
Resolution
1" (0.01°)
Tolerance
±2" (± 0.03°)
Repeatability
1"
IP
40
Response Speed
3rps
Battery
Lithium battery
Battery Life
2,000 hours
Thermal
0°C to 40°C
Function
Zero setting, Switchable direction, Data output, Data hold, presetting, sexagestimal/decimal notation
Mass
624g
662g
621g
659g
Standard accessories
Battery
Mitutoyo Measuring Instruments
Authorized distributors / dealers for "Aku" brand Miscellaneous that including Digimatic universal protractor, universal bevel protractor in India.