Measuring Instruments>>Mitutoyo>>Micrometers>>

Sheet Metal Micrometers series 389, 189, 119, 118.
Features:
Carbide-tipped measuring force.

Providing with a standard except for 25 mm (1") model.

The 189 series is provided with a digit counter.

The 119 series is provided with a dial for making easy and quick reading.

The 118 series has three combinations of measuring faces: flat-flat type, and spherical-spherical type.

With Ratchet stop for constant force.

Measuring thickness of sheet metal, paper, plastic, and rubber parts.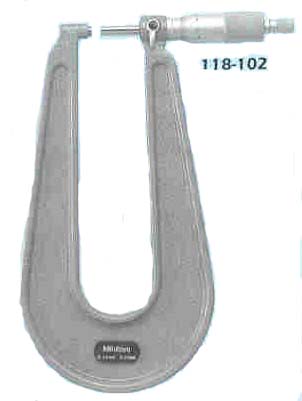 Digit Sheet Metal Micrometers
Metric
| | | | | |
| --- | --- | --- | --- | --- |
| Range | Order No. | Resolution | Accuracy | Throat |
| 0 - 25 mm | 189-102 | 0.01 mm | ▒ 4Ám | 150 mm |
Sheet Metal Micrometers
Metric
Range
Order No.
Graduation
Accuracy
Throat
0 - 25 mm
118-118
0.01 mm
▒ 4Ám
150 mm
118-103
0.01 mm
▒ 5Ám
300 mm
Mitutoyo Measuring Instruments
Authorized distributors / dealers for "Aku" brand Micrometers, Disk Micrometer in India