Measuring Instruments>>Mitutoyo>>Micrometers>>

Holtest Three-Point Internal Micrometers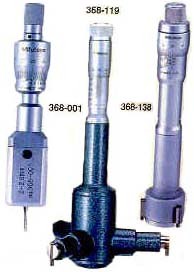 Features:
Setting Rings for origin point setting are OPTIONAL.

Highly durable because of carbide-tipped contact points (anvils).

Can measure deep holes by attaching an optional Extension Rod which is available on models over 6 mm. (.275")

With Ratchet stop for constant force.

Measurement can be taken closer to the bottom of the blind bore.
Range
Code No.
Graduation
Accuracy
Dimension
Optional Extension Rod
H
L
2-2.5 mm
368-001
0.001 mm
± 0.002 mm
---
12 mm
---
2.5-3 mm
368-002
0.001 mm
± 0.002 mm
---
12 mm
---
3-4 mm
368-003
0.001 mm
± 0.002 mm
---
22 mm
---
4-5 mm
368-004
0.001 mm
± 0.002 mm
---
22 mm
---
5-6 mm
368-005
0.001 mm
± 0.002 mm
---
22 mm
---
6-8 mm
368-101
0.001 mm
± 0.002 mm
2 mm
59 mm
100 mm (952322)
8-10 mm
368-102
0.001 mm
± 0.002 mm
2 mm
59 mm
100 mm (952322)
10-12 mm
368-103
0.001 mm
± 0.002 mm
2 mm
59 mm
100 mm (952322)
12-16 mm
368-104
0.005 mm
± 0.002 mm
0.5 mm
80 mm
150 mm (952621)
16-20 mm
368-105
0.005 mm
± 0.002 mm
0.5 mm
80 mm
150 mm (952621)
20-25 mm
368-106
0.005 mm
± 0.003 mm
0.5 mm
90 mm
150 mm (952622)
25-30 mm
368-107
0.005 mm
± 0.003 mm
0.5 mm
90 mm
150 mm (952622)
30-40 mm
368-138
0.005 mm
± 0.003 mm
0.3 mm
98 mm
150 mm (952623)
40-50 mm
368-139
0.005 mm
± 0.003 mm
0.3 mm
98 mm
150 mm (952623)
50-63 mm
368-140
0.005 mm
± 0.003 mm
0.3 mm
105 mm
150 mm (952623)
62-75 mm
368-141
0.005 mm
± 0.003 mm
0.3 mm
105 mm
150 mm (952623)
75-88 mm
368-142
0.005 mm
± 0.003 mm
0.3 mm
105 mm
150 mm (952623)
87-100 mm
368-143
0.005 mm
± 0.003 mm
0.3 mm
105 mm
150 mm (952623)
100-125 mm
368-117
0.005 mm
± 0.005 mm
13 mm
158 mm
150 mm (952623)
125-150 mm
368-118
0.005 mm
± 0.005 mm
13 mm
158 mm
150 mm (952623)
150-175 mm
368-119
0.005 mm
± 0.005 mm
13 mm
158 mm
150 mm (952623)
175-200 mm
368-120
0.005 mm
± 0.005 mm
13 mm
158 mm
150 mm (952623)
200-225 mm
368-121
0.005 mm
± 0.005 mm
13 mm
158 mm
150 mm (952623)
225-250 mm
368-122
0.005 mm
± 0.005 mm
13 mm
158 mm
150 mm (952623)
250-275 mm
368-123
0.005 mm
± 0.005 mm
13 mm
158 mm
150 mm (952623)
275-300 mm
368-124
0.005 mm
± 0.005 mm
13 mm
158 mm
150 mm (952623)
Mitutoyo Measuring Instruments
Authorized distributors / dealers for "Aku" brand Micrometers, Disk Micrometer in India