NOGA Magnetic Tools and Accessories
PH Holders Fab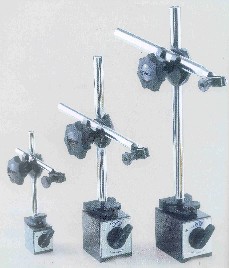 PH holders with NOGA unique fine adjustment at base.
Single direction fine adjustment at base.
Powerful on/off magnetic base.
Universal swivel clamp for all dial and test indicators.
Holds 6mm, 8mm, 3/8", dovetail and back lug.
Strong arm lock by using 3 points clamp.
Easy to set up gauges into required position.
Nickel plated arms.
Holder
Arm length
Magnet
3 points clamp
Universal swivel clamp
Order No.
Weight
Post
Arm
Force
Dimension
Order No.
Order No.
[Kg]
Dia.(D2) × length (L1)
Dia.(D2) × length (L2)
[N]
W
L
H
PH3100
0.500
Ø10 × 120
Ø8 × 110
320
30
40
35
PH0315
FA1210
PH2040
1.700
Ø14 × 203
Ø12 × 185
800
50
60
55
PH0310
FA1410
PH4016
2.450
Ø16 × 260
Ø16 × 225
1000
50
70
55
PH0312
FA1410
Also, check out various Noga make magnetic stands.
Please send us e-mail for checking availability on info@tradecombine.com
Dealer's inquiry from Delhi, Kolkatta, Chennai, Bangalore, Coimbatore, Ahemdabad, Pune, Nasik, Faridabad, etc. solicited for our Matrutara / Aku brand magnetic stands.