V - Block Hardened with Clamps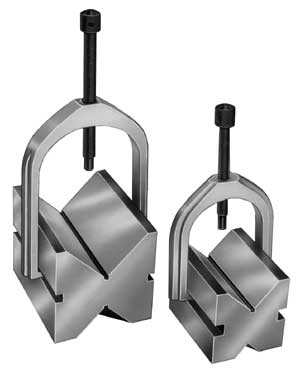 The V - Blocks have two V - angles of different size to take parts of varying dimensions. By means of the clamp the work can be held tight in the block. The accuracy of the vee block / 100 mm is within 0.005 mm.
V - BLOCKS CAN BE SUPPLIED WITH 120 DEGREE ANGLE.
| | | |
| --- | --- | --- |
| CAT NO. | L * W * H | CLAMPING RANGE |
| SH - 444 | 50 * 40 * 40 mm | 5 - 30 mm |
| SH - 445 | 75 * 60 * 60 mm | 6 - 50 mm |
| SH - 446 | 100 * 80 * 80 mm | 6 - 70 mm |
| SH - 447 | 70 * 140 * 140 mm | 10 - 125 mm |
| SH - 448 | 150 * 200 * 200 mm | 10 - 150 mm |
| SH - 450 | 200 * 200 * 200 mm | 10 - 200 mm |